There are many lesser-known places in India and very few people know them until unless any big celebrity or film star visits these places, then only these places come in highlight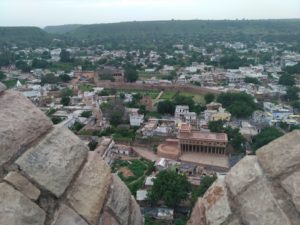 s.
Recently I got a chance to visit a place which is known for only its hand-woven sari which is more than 700 yrs old tradition of handloom. Neither any machine or synthetic thread or yarn involve in weaving. They are still following 700 yrs old weaving tradition. The exquisite hand-woven Chanderi saris adorn this historic town.This is the city known as Chanderi.  Once it is visited by famous films actor Amir Khan with Karina Kapur during their film promotion of 3 Idiots.
We went to Chanderi from Jhansi to via Pichhore route which is around 135 kms and two and half hour drive by car. My daughter, she is 8 yrs old enjoyed a lot en-route sighting of the road as we driven by a car passing through some hills with lush green trees since it was a month of August and mostly hills and plan areas became a green belt.  We enjoyed this driving a lot with some old films Hindi songs.
Chanderi is a town of historical importance in Ashoknagar District of the state of Madhya Pradesh in India. It is situated at a distance of 127 km from Shivpuri, 40 km from Lalitpur, 165 km from Sanchi and 210 Kms, Khajuraho 265 kms, from Orchha 130 Kms.
It is surrounded by hills southwest of the Betwa River. Chanderi is surrounded by hills, lakes, and forests and is spotted with several monuments of the Bundela Rajputs and Malwa sultans. And 165 kms Sanchi and 210 kms Bhopal.
In existence since the 11th century, Chanderi is blessed with scenic beauty in and around it. While picturesque hills, lakes, forts sit surrounding it.
The town of Chanderi, with its regal radiance, will leave you spellbound, and often, feel like the royalty, you used to playact as a child.
We met our local guide Mr. Muzaffar Husain Ansari he has told us in details about Chanderi
You can reach here by train from Delhi or Bhopal till Lalitpur (Lalitpur is the nearest train station) and then by surface from Lalitpur to Chanderi. Lalitpur is just 40 Kms from Chanderi and Shatabdi Express stop at Lalitpur Station. Bhopal is the nearest airport.
Chanderi Saris are adored around the globe for the artistry behind their creation. The elegance of this matchless intricate art of embellishing silk and cotton fabric with zari weaving resides in harmony with the towering forts and palaces. It is a beautiful contrast rare to be found anywhere else.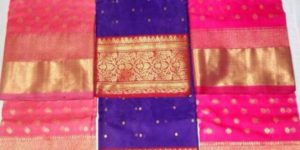 Chanderi city is a complete tourist package in itself. All type of touristic interest places is here. Such as Natural Beauty, water reservoir, prehistoric rock and rock paintings, historical and religious monuments belong to all three communities (Hindu, Jain, and Muslim)
If you have an interest in history then it has, if you have an interest in pilgrims then it has religious important (It is said that it was a town of Mahabharata's Shishupal cousin of Lord Krishna) for Hindu, Muslim, and Jains and of course, it is famous for Chanderi Saris.    It has historical monuments, surrounded by beautiful hills all around and it has beautiful spring,
The beauty of Chanderi are :
# The only Jama Masjid in India without Minars is found here
# According to legend, Mahabharata's Shishupal once ruled this town
# Major center of Jain culture
# Chanderi is known to have had 1200 Baovlis in the past
What to see & Points of interests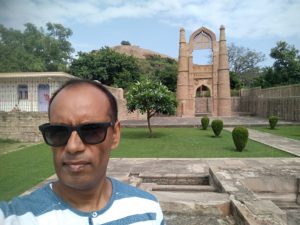 Badal Mahal Gate – The Darwaza was built in the 15th century, during the reign of Sultan Mahmood Shah Khilji I. It is said that this gateway stood at the entrance of a palace, Badal Mahal, but this palace no longer survives. Carved entirely out of Stone, this impressive 15meter tall gateway stands towering against a fort on the hilltop.
Koshak Mahal-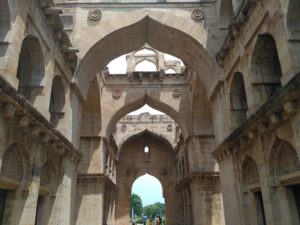 It is created long back 1445 as a victory monument entirely out of white sandstone, This palace still survive in ruins yet looking beautiful.
Parmeshwar Tal – It is surrounded by shrines and cenotaphs, this tank was built by Bundela Rajput Kings.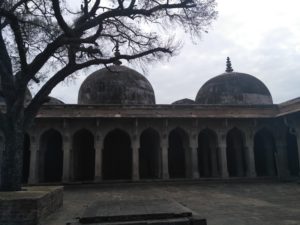 Jama Masji – Established in 1251, this giant structure is one of India biggest mosques and the only without minras. The Jama Masjid, with a capacity of holding over 2000 persons at the time of prayer, is the largest and the oldest mosque in Chanderi and possibly all of Bundelkhand 
Chanderi Fort – The massive Fort stands on a 200-meter high hill with 3 intimidating entrances and offers a panoramic view of Chanderi. The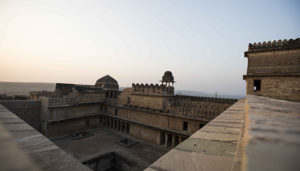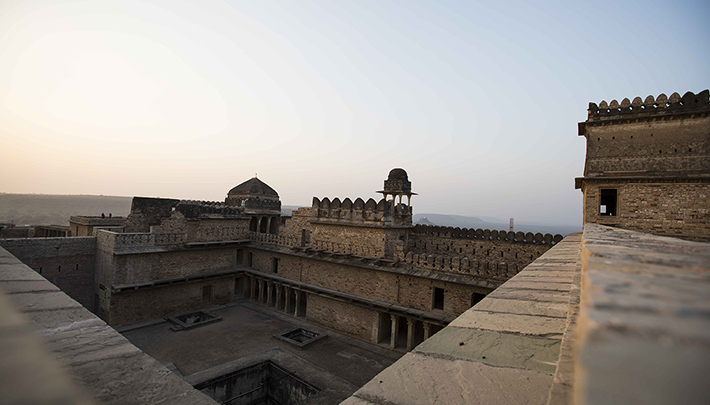 Kirti Durg was first constructed by the 11th-century Pratihara king Kirti Pal and is named after him. The structure we see today is not the original fort, it has been rebuilt several times and added to by subsequent rulers like the Mahmood Khilji, Durjan Singh Bundela and others. Built on the highest point of the Chandragiri Hill, the fort is a characteristic sight in Chanderi and is visible from virtually every point in the town and beyond. and other places are to visit Shezadi Ka Roza, Chanderi Museum, Buddhi Chanderi, Idgah Mosque, Battishi Baoli, Kati Ghati Gateway
Other places are to visit Shezadi Ka Roza, Chanderi Museum, Buddhi Chanderi, Idgah Mosque, Battishi Baoli, Kati Ghati Gateway and many more.
If you wish to visit this place thru us then kindly fill the contact details for click here